Beard, Moustache and Facial Hair Restoration,
performed by Dr. Hakan Doganay's at his AHD clinic located at at Liman Mah. 32. Sok. 14/12 Konyaalti / ANTALYA 07400 Turkey.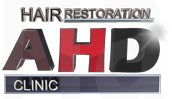 Facial hair restoration is one of the fastest growing segment of hair transplantation in recent years. The request usually comes from men who desire a more masculine look with an abundance of facial hair, such as beard, goatee, moustache and even side burns.Before the FUE was invented, it was very impractical to perform facial hair restoration as the only way to obtain the donor follicles was by means of a strip excision. However things have changed dramatically since the invention of FUE. Restoring or enhancing one's facial hair has become a very realistic and achievable goal under the hands of a skilled surgeon.
Dr. Hakan Doganay's AHD Clinic is one of the few clinics in Europe that offers facial hair restoration. A lot of times, patient request this procedure due to injuries from accidents, especially for burn victims and Dr. Doganay has helped many over the years.
Transplantation of hair, eyebrow hair and beard hair are possible over the surfaces of burned and scar regions. The factors affecting the success of transplantation apart from transplantation to a regular bald area depend on the degree of the burn and the vascular vitality of the scarred tissue
If the length of the hair is convenient enough in donor area, the extraction signs are not visible on donor area in all hair transplantations.
The process of facial hair restoration normally includes:
Estimating of the area where the hair is going to be transplanted and evaluating if the donor supply can support the number required,
Extracting the necessary grafts from donor area;
The transplantation of the grafts hair into the right area with right angle, direction and depth;
Follow up with the patient to evaluate the growth and yield post op.