Body Hair Transplant,
available at Dr. Hakan Doganay's clinic located at at Liman Mah. 32. Sok. 14/12 Konyaalti / ANTALYA 07400 Turkey.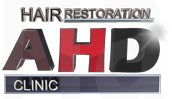 Body Hair Transplant or BHT is a derivative of FUE.  The extraction concept is very similar for both BHT and FUE whereby follicles or follicular units are removed one at a time without the need for strip excision.BHT is a life saving procedure for those who have insufficient donor follicles from the scalp. As we all know, hair transplant is basically the relocation of follicles from one part of our body to thinning areas in your scalp. Over the years, doctors have discovered that body hair such as from the chest or beard can actually function as donor follicles for people with extensive hair loss. Experienced doctors or surgeons are able to use body hair as filler and mix them up with scalp donor to produce dramatic density improvement for their hair loss patients.
Another group of people who benefit from body hair transplants are badly scarred hair transplant victims. Hair transplant is a surgical procedure and must be carefully thought out and researched before making a decision. If you are one of the unfortunate ones who happened to choose an inexperienced doctor for the procedure, there is a good chance you will be left with unsightly scars on your scalp along with a severely depleted scalp donor supply. In the old days before BHT became a possibility, choosing the wrong doctor is equivalent to a death sentence for anyone with hair loss. There were countless who were left with no choice but to live with the unsightly scars and unnatural results for the rest of their lives. Thankfully, with the invention of BHT, the lives, self esteem and confidence of many hair transplant victims can be improved substantially. Body hair opens a world of possibility for many patients. With donor sites coming from the patient's chest and even facial areas, the amount of donor supply can easily double for any particular patient.
Dr. Hakan Doganay's AHD Clinic is one of the few truly experienced body hair transplant clinics in the world.
At Dr. Doganay's clinic, body hair donor mainly come from the following:
Beard hair - Grafts are extracted from the area below the jaw bone. Even if the graft in the beard can be extracted entirely, Dr. Doganay's standard protocol is to extract about 30% of it in one session to avoid any risk of visible scarring on the face. For a typical patient, there are almost 1000-3000 grafts hair which can be extracted from the facial areas.
Chest hair - The chest hairs are generally more curly in nature than regular head donor.  Grafts can be damaged during the extraction process because of the follicular curl which extends all the way down to the roots of the follicle. Only an experienced doctor can yield successful results using chest hair as donor.