Dr. Sohi Hair Transplant
founder of Reviva Clinic in Chandigarh India with surgical facility located at SCO No. : 1-2-3 F.F, Sector : 17 D, opposite Park Plaza Hotel and behind Canadian Embassy. Additional facility also located in Delhi at A-32, Block A, Gulmohar Park, Near Siri Fort Auditorium. 

Dr. Prabdeep Sohi
About Dr. Prabdeep Sohi
Credentials & Background
Dr. Prabdeep Sohi is the first Indian doctor ever featured on HairSite who has his own patented FUE instruments. The logistics required to file a patent is a very lengthy and technical process. Any doctor who is willing to go through that trouble to patent his own proprietary FUE instrument is proof of his dedication and commitment to hair transplantation.
After completing his MBBS and MS in general surgery from Rajasthan University, Dr. Prabdeep Sohi completed his M.Ch. in Cosmetic and Plastic surgery from Post-Graduate Institute of Medical Education and Research (PGIMER), Chandigarh, one of the most prestigious institute for plastic surgery training in India. Dr. Sohi started his practice immediately after his post graduate education. After serving in one of the most prestigious institute for plastic surgery for four years, he decided to open his private clinic in the year 2009. Over the years, Dr. Sohi has authored many international and national publications on various topics pertaining to his work.
As one of the early adopters of the now famous FUE hair transplant technique in India, Dr. Sohi has been on the very leading edge of this procedure and has invented proprietary instruments used for FUE procedures. One of Dr. Sohi's inventions is the US patent pending, "Sohi FUE punch", this titanium tipped punch comes with a variable guard allows the surgeon to extract the follicles more safely, with this new instrument, Dr. Sohi can transplant more than 4000 grafts in a day.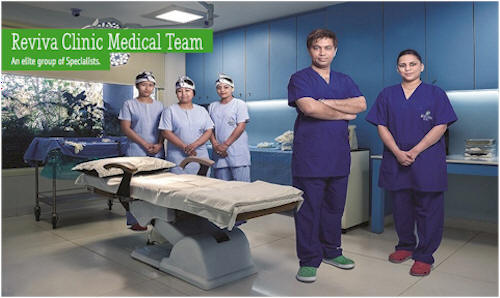 Reviva Clinic medical team