Dr. Sohi BHT Body Hair Transplant
offered at Dr. Prabdeep Sohi's Reviva Clinic in Chandigarh India with surgical facility located at SCO No. : 1-2-3 F.F, Sector : 17 D, opposite Park Plaza Hotel. Additional facility also located in Delhi at A-32, Block A, Gulmohar Park, Near Siri Fort Auditorium. 

Dr. Prabdeep Sohi
Body Hair Transplant India
BHT or Body Hair Transplant is a variation of FUE technique. With FUE, the donor comes from the patient's head. While FUE is a great advancement in hair transplantation, it still suffers from the drawback of limited donor supply. When the head donor runs out, the patient will have no more supply available for fill in the thinning or balding areas in their scalp. This is especially troublesome for people who have bad hair transplant results in the past and require repair sessions. In the absence of an abundant supply of donor follicles, there will be little options for repair patients. Many will have no choice but to live with unsightly plugs and scars or be forced to wear a wig or hairpiece in order to camouflage the work from inexperienced doctors.
BHT is the answer to all that and is now available at Dr. Prabdeep Sohi's Reviva clinic in Chandigarh India.
With BHT, doctors are now able to extract additional donor follicles from the patient's body parts such as chest, legs, arms etc. This is fantastic news for people with limited or severely depleted head donor follicles. Although the characteristics and texture of body hair can be very different from regular head hair, when used properly these body hairs can be a life saving option for many badly scarred hair transplant patients. Body hair can can also be used as fillers and mixed with regular head donors to enhance the thickness and density of regular FUE results.
Although experiences vary among patients, in some instances, the texture of body hair may even become less coarse over time and blend in better with regular head hair.
Residents in India with limited donor supply should be thrilled that BHT is becoming more popular and they no longer need to travel overseas in order to have this procedure done.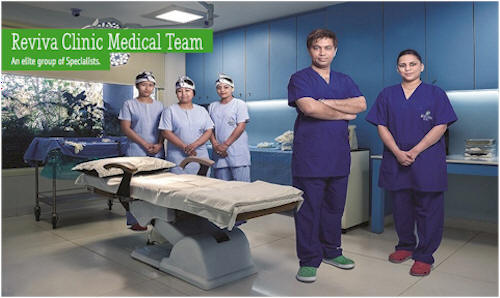 Reviva Clinic medical team