Reviva Hair Transplant Clinic
founded by Dr. Prabdeep Sohi in Chandigarh India with surgical facility located at SCO No. : 1-2-3 F.F, Sector : 17 D, opposite Park Plaza Hotel and behind Canadian Embassy. Additional facility also located in Delhi at A-32, Block A, Gulmohar Park, Near Siri Fort Auditorium  New Delhi- 110049 +91 7508000888. 

Dr. Prabdeep Sohi
Reviva Clinic
By examining a clinic's facilities and surrounding can tell you a lot about how the clinic is being run and how well their patients will be treated. Below you will see some clinical and surgical facilities at Reviva clinic in Chandigarh India.
Founded by hair transplant surgeon Dr. Prabdeep Sohi, Reviva Clinic epitomizes the perfect set up for a hair clinic. The clinic is clean, well run and equipped with the latest instruments and devices to facilitate efficient workflow between Dr. Sohi and his team. It is a setup that inspires confidence in every patient knowing that he or she is receiving the best treatment and care under a professional team.
Any doctor who cares about the well being will invest heavily in their clinical facilities to enhance the comfort for their patients rather than channeling every penny to clinic's bottom line. Hair transplant procedures are typical labor intensive and long hours. Very often, a procedure can last a full day up to 8 hours or even longer in some instances. A professional setup with pleasant surrounding and ambiance are essential in maintaining the well being of the patients during the long process.
In Chandigarh, India, Reviva has five state of art Surgical OT's where all the procedures are carried out by a team of fully trained professional technicians and doctors. The ultimate comfort of the patient undergoing the procedure is always a top priority.
All patients at Reviva are made to feel at home with the choice of music ,food and refreshments. There is a dedicated lounge for the comfort of the patients equipped with entertainment and media system and a full time service attendant to cater to the patient's needs.
Reviva Clinic is also conveniently located within walking distance from some of the finest Hotels and Restaurants in the region.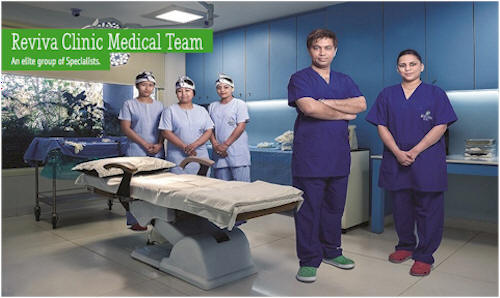 Reviva Clinic medical team