Dr. Baubac Hayatdavoudi (Alvi Armani) - Strip scar repair
(Hair Transplant)
Alvi Arman
Beverly Hills

Dr. Baubac Hayatdavouid scar repair
The patient below had his Strip scars repaired by Dr. Baubac Hayatdavoudi using SMP.
This patient had 3 very long and noticeable strip scars from a procedure he had with another clinic. The scars were visible even when the patient had his hair longer.
Dr. Baubac covered and concealed the scars using our SMP method, so the scars were concealed and no longer noticeable and visible, even with a short hair cut
Comparison
Before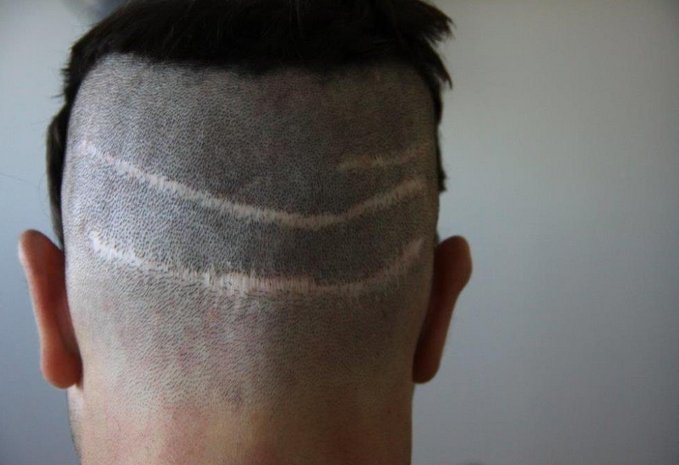 Post op
After
Pats205 has 23 Personal Journal(s). Click here to view
Pats205 is located in [NA] and he is available to meet: NO
---
Eric
Patient Coordinator
Alvi Armani Beverly Hills
eric@alviarmani.com

Schedule a complimentary evaluation with Dr. Baubac: Free Consultation
Click here to see many more Alvi Armani patient Results: Alvi Armani Results
The Alvi Armani clinic is Top 2 in the U.S. in most results posted: Hairsite Rankings



Alvi Armani is a sponsor of HairSite. Rankings on HairSite are based on # of successful patient results posted and not affected by sponsorship. Any clinic or doctor can post their patient results in HairSite forum and earn a point for every successful result posted. It is not the mandate of HairSite to track failed or unsuccessful results, readers are advised to do their own research carefully before making a decision about hair transplant and not rely solely on our ranking system.
---
Complete thread:
Dr. Baubac Hayatdavoudi (Alvi Armani) - Strip scar repair

- Pats205, 12.06.2015, 17:08

(Hair Transplant)