1600 CIT on Class 5 patient - 6 months post-op - "LESS IS MORE"
(Hair Transplant)
Below are photos of a Norwood 5 patient who came to our clinic in the fall of 2007. The patient has above average donor density of 93 follicular units per square centimeters with 80 being about the average. The patient's goal was to obtain conservative natural looking coverage to the front with a mature hair line. Dr. Cole successfully transferred approximately 1600 CIT grafts to the frontal third over a two day period.

This particular patient chose to have a mature hair line for personal preference and wanted the "less-is-more" look and a lower overall density. This allows him to wear his hair short giving him a thinning appearance as opposed to a bald look. This conservative approach is exactly what some men want. Not all men desire a low hair line with a fuller appearance. Some simply want to take the clock back in time a few years to frame their face while avoiding the appearance of being overly bald. It is possible to create a natural look with fewer grafts and a lower budget. In the future, the front may be thickened much further if the patient chooses. The patient may lose more hair in the future. A mature hair line gives the patient the option to lower the hair line at a later date. Not all patients want a full, thick head of hair. If the patient would have desired a thicker look, Dr. Cole would have transplanted approximately 2500 grafts to the top and front. This patient is very pleased with the 6 month results on both the donor and recipient area. The patient's growth at this point should be approximately 60 to 70 percent matured and we can expect more growth in the next few months. The next goal of this patient is to add coverage in the crown to match the low density on the frontal scalp.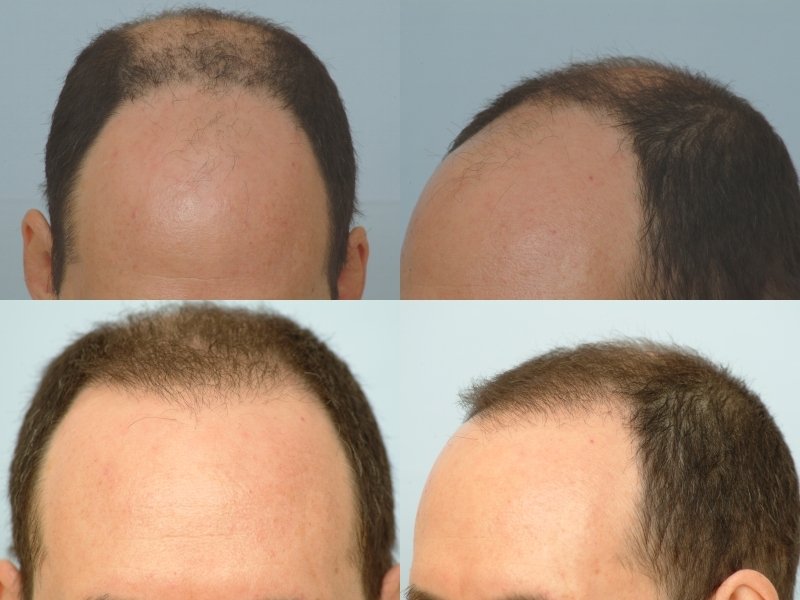 My advice is not medical advice




CIT is located in LICENSEES: USA, ASIA, & EUROPE and he is available to meet: YES
email hairsite@aol.com to arrange a meeting.
---
Disclaimer: I am not a physician. My opinions are not necessary those of Dr. Cole. My advice is not medical advice.

Free no obligation recommendation from Dr. Cole:
Toll Free: 1-800-368-4247
---
Complete thread:
1600 CIT on Class 5 patient - 6 months post-op - "LESS IS MORE"

- CIT, 25.04.2008, 18:27

(Hair Transplant)