130 CIT into strip (FUT) scar - 8 months after first pass
(Hair Transplant)
Below is a photo showing a donor area of a patient who went to a well-known clinic to have a strip procedure performed to remedy his hair loss. One year after the strip (FUT) procedure, the patient's goal was not met and an unwanted strip scar remained. The patient's new goal was to have a session of CIT grafting into the scar to improve the appearance. In the summer of 2007, this younger patient came to our clinic for one small session of CIT and test of BHT into the strip scar.

Dr. Cole's treatment plan for the patient was to graft the scar using mostly scalp donor hair with a small percentage of leg hair to test yield of growth into the scar. Eight months later, the hair density into the scar is noticeably greater. In the first pass, Dr. Cole transplanted approximately 110 scalp hair grafts and approximately 20 body hair grafts from the legs. When transplanting into scar tissue, we have noticed that body hair tends to grow more consistently when anagen hairs are placed at lower densities (28 - 30 grafts per square centimeter). To significantly improve the appearance of strip scars, usually more than one session is usually required for optimal results. Also attached is a post-op photo showing the placement immediately after the second pass of grafting into the scar. We expect the patient's growth to continue over time.

Pre-op & 8 month Follow-up:



Immediate post-op 2nd pass of scar grafting: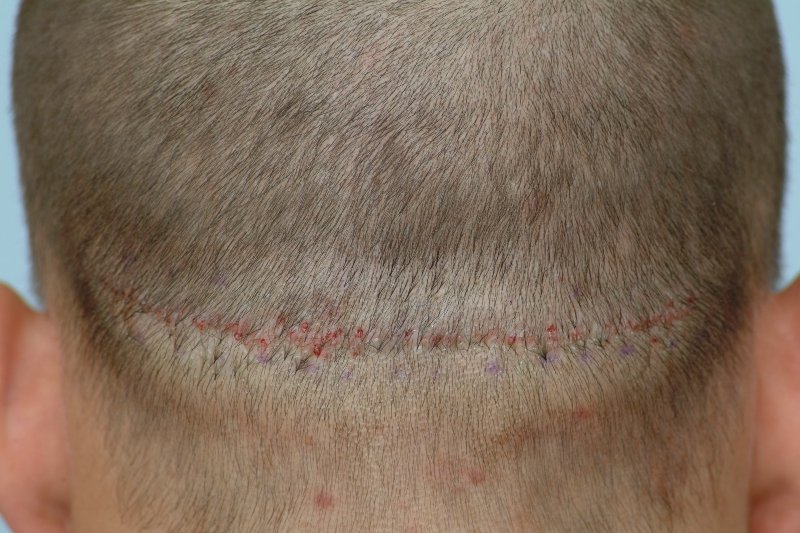 My advice is not medical advice




CIT is located in LICENSEES: USA, ASIA, & EUROPE and he is available to meet: YES
email hairsite@aol.com to arrange a meeting.
---
Disclaimer: I am not a physician. My opinions are not necessary those of Dr. Cole. My advice is not medical advice.

Free no obligation recommendation from Dr. Cole:
Toll Free: 1-800-368-4247
---
Complete thread:
130 CIT into strip (FUT) scar - 8 months after first pass

- CIT, 09.07.2008, 04:31

(Hair Transplant)