600 CIT on repair patient at 5 months post-op - Fine hair line design - Case L
(Hair Transplant)
Below are photo comparisons of a mature patient who
sought out our clinic after having three prior hair transplant
procedures that include a plug procedure, scalp reduction, and a strip procedure
(FUT). The patient's actual goal was to have the plugs camouflaged for
a more natural looking and aesthetically pleasing frontal hair line. Very often, we encounter patients who are literally forced to pluck a significant number of their plugs go about their daily activities. Dr. Cole strategically transplanted 600 CIT grafts onto the front to treat this patient.

Much research should be done prior to moving forward with any hair
transplant clinic. We encourage all potential patients to campaign toward
finding a reputable clinic that shows excellent results. Even today,
there are clinics that either mis-angle the transplanted follicular units or
transplant follicular units containing one too many hairs on the hair
line. Even an abrupt hair line with multiple hair grafts can ruin any
hair transplant. At just 5 months post-op, this patient enjoys a
natural looking hair line without compromising any laxity of the scalp
or linear scar associated with strip hair transplant method.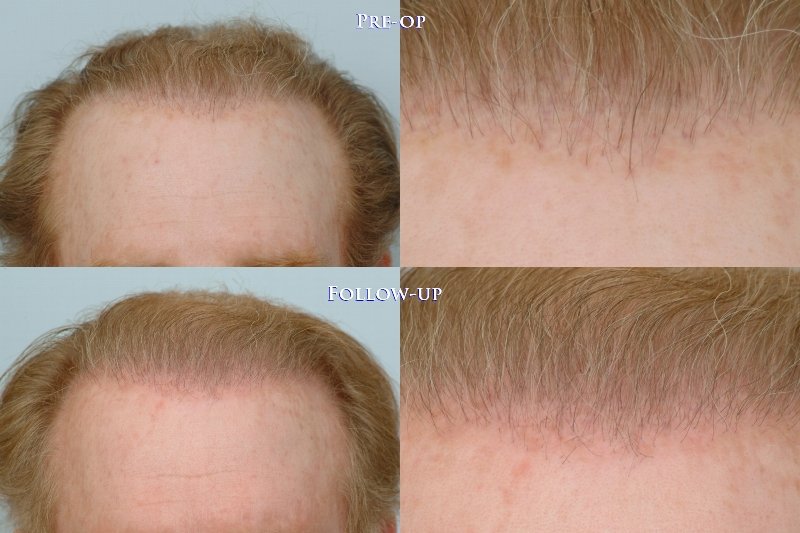 CIT is located in LICENSEES: USA, ASIA, & EUROPE and he is available to meet: YES
email hairsite@aol.com to arrange a meeting.
---
Disclaimer: I am not a physician. My opinions are not necessary those of Dr. Cole. My advice is not medical advice.

Free no obligation recommendation from Dr. Cole:
Toll Free: 1-800-368-4247
---
Complete thread:
600 CIT on repair patient at 5 months post-op - Fine hair line design - Case L

- CIT, 11.06.2009, 03:47