JUSTIN2RUE's after pix in harsh flourescent office lighting.
(Topicals & Shampoos)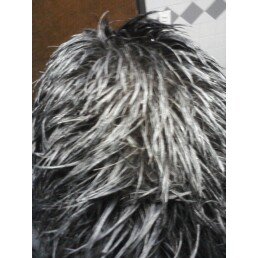 All of the pix above are of my normally styled,dry hair with "Got 21 B Glue" Hair Gel. My scalp is positioned apr. eight inches away from flourescent office overhead lighting. All these pix were shot with my cellphone on January 22nd 2011. To answer TryingTwo's questions- When I first started losing my hair back in early 2000,my thinning was confined to just the very front hairline. However ,by 2004 my loss was over the entire front AND vertex of my head. I began using Rogaine in I think February of 2000 at two times a day. I kept that exact regimen amount until late 2004 when I got so dissapointed from it not working,that I completely STOPPED Rogaine for several months. Then,sometime in early 2005,I began to become so mad that Rogaine didnt work,that I went back on at double the normal dosage almost in spite of my self. lol. Kinda a strange reason,I know. I sorta demanded that Rogaine work for me! lol. I wasnt going to take defeat. My decision to double up on generic Minox was eased since I knew that Costco was offering the Kirkland Signature brand at rediculously low bulk prices! 2005,2006,2007,and 2008 came and went on my new regimen. Those were the darkest years of my life......... Nothing "seemed" to be working. Its hard to think of why I didnt stop taking the Minox considering how depressed I was. Part of me was stubborn,the other part was that I was definetly afraid that if I were to give up my regimen,I would lose even more hair and be TOTALLY bald within a year. I didnt want that. Its funny,I was SO depressed that I didnt take it seriously when men and women,family and strangers alike began making nice comments in regards to my "thick" hair. I completely blew the comments off. Finally around 2009 roughly,thats when I think it hit me. One day it hit me rather swiftly after stepping outa the shower with my hair soak and wet. I looked in the mirror with the yucky harsh overhead lighting . Even with wet hair,even with bad light,my hair was......full again. All those people that I thought were just being polite,I knew then that it ws true. My stubbornness actually worked. Then from 2009 until the end of 2010,I just kept monitoring how thick my hair had become and whether or not I was having any serious sheds. I was also waiting to see If maybe I was wrong but it was clear,my hair was pretty much back to normal,the way it had been years ago in my twenties(im now 37). I didnt want to come to Hairsite.com and post anything on the Forums until I was DEAD SURE. I didnt want to be posting false info and let so many people down. I had been through my rough share of let-downs by crack pot's posting bogus success stories and pix here. I hope my recollections and pictures have aided at least some of you. There is HOPE. Not for everyone,but at least some!!! All the best guys. Warmest regards, Justin2rue




justin2rue is located in SIMI VALLEY , CALIFORNIA and he is available to meet: YES
email hairsite@aol.com to arrange a meeting.
---
Complete thread:
JUSTIN2RUE's after pix in harsh flourescent office lighting.

- justin2rue, 26.01.2011, 04:56

JUSTIN2RUE's after pix in harsh flourescent office lighting. - Stabboned, 26.01.2011, 05:44

JUSTIN2RUE's after pix in harsh flourescent office lighting. - justin2rue, 26.01.2011, 06:29

JUSTIN2RUE's after pix in harsh flourescent office lighting. - Freddie555, 26.01.2011, 08:49

JUSTIN2RUE's after pix in harsh flourescent office lighting. - Freddie555, 26.01.2011, 08:52

JUSTIN2RUE's after pix in harsh flourescent office lighting. - jwm, 26.01.2011, 20:47

JUSTIN2RUE's after pix in harsh flourescent office lighting. - justin2rue, 26.01.2011, 21:49

JUSTIN2RUE's after pix in harsh flourescent office lighting. - justin2rue, 26.01.2011, 22:06

JUSTIN2RUE's after pix in harsh flourescent office lighting. - jwm, 26.01.2011, 22:12

JUSTIN2RUE's after pix in harsh flourescent office lighting. - justin2rue, 26.01.2011, 22:34

JUSTIN2RUE's after pix in harsh flourescent office lighting. - tryingtwo, 26.01.2011, 23:02

JUSTIN2RUE's after pix in harsh flourescent office lighting. - justin2rue, 27.01.2011, 19:27

JUSTIN2RUE's after pix in harsh flourescent office lighting. - tryingtwo, 27.01.2011, 21:01

Which Nizoral do should i use? - Jason007, 27.01.2011, 21:40
JUSTIN2RUE's after pix in harsh flourescent office lighting. - far4z, 28.01.2011, 09:35

question - Bukowski, 30.01.2011, 21:16

question - justin2rue, 31.01.2011, 01:35

question - justin2rue, 31.01.2011, 01:36

question - Freddie555, 01.02.2011, 03:01

JUSTIN2RUE's after pix in harsh flourescent office lighting. - fastinjun, 06.02.2011, 09:09
JUSTIN2RUE's after pix in harsh flourescent office lighting. - tryingtwo, 17.01.2013, 18:01