My Story - 2,000 Graft Hair Transplant - Dr. Konior (pre-op and post-op pics)
(Hair Transplant)
I am 27 years old and would consider myself a NW III (slight Vertex). I just recently had a second HT(2,000+ grafts frontal third FUT) by Dr. Konior this past week. I must say that everything went smoothly. My first procedure was not as effective as I would've liked with another Dr. back in 2006 (1,200 - frontal third -- funny thing is that he is now a member of the IAHRS now). After much research, I chose Dr. Konior for his great hairlines, technique, experience, conservatism, and great reviews. He is one of the members of the IAHRS and also a member of the Coalition Doctors group (oh and he is also rated in the top 5% of docs in Chicago). He does majority of the work himself and in my case, he recommended the stick and place method, which takes a great deal of time. His recommendation was based on my miniaturized hair throughout and he wanted to save as many as possible during the procedure and reduce shock loss.

F.Y.I. I have requested an exact count for my transplant, however, one of the staff said that it was a little over 2,000 grafts, but they will tell me the exact figure when I go into for suture removal. Also, another plus was that she said that many of my grafts were 3 follicular unit grafts in the mid-zone!

My surgery started at 6AM and finished by 2:30PM. I only requested one bathroom break, but they always made an effort to ask how I was feeling and if I needed anything. My focus was on the frontal hairline and also the frontal third. I wanted to achieve good amount of density, which I believe based on the pics, should be expected. Due to my poor laxity, the doctor used staples and sutures and also recommended a cervical collar so I don't aggravate the scar.

I must say that everything looked extremely clean, which was one of my concerns as I was not going to shave the recipient site. Another plus was that initially he stated that he was going to extract my 2000 grafts via another scar, however, in the end, he ended up cutting out the old one, leaving me with one. He stated that the older scar was not the best of condition and would've been hard to work with in terms of cutting up the units due to scarring, but he ended up only leaving me with one. After the surgery, he said that due to my dark hair, limited bleeding, it was a very smooth and clean procedure. Everyone of the staff is very friendly and Tom (Dr. Konior's patient educator) is one of the nicest and most knowledgeable person I know of. He has always been there to answer anything.

Dr. Konior...what can I say about the Dr.? He is amazing. He has always answered my e-mails promptly and had an answer for any and every question under the sun. On my third day of my post-op, when I was feeling a bit more pain, I called his personal phone at 10PM. Through our conversation that night, I realized he was in Phoenix, however, he picked up and suggested a couple of things I could do and also was not in a rush to get off the phone with me. In fact, we were joking around a bit. He is a very, very, humble and intelligent person.

Attached are my pictures 5 days post-op. Please note that they appeared to be pretty much this clean immediately post-op as well!

Currently, I have been on Propecia for 4+ years, started minoxidil on the crown, and also Nizoral every 3 days. I have also ordered TRX2, which I am waiting on starting until I finish all my post-op medication.

Please ask any questions or leave any comments!

I am very curious as to how the density will turn out, what do you guys think?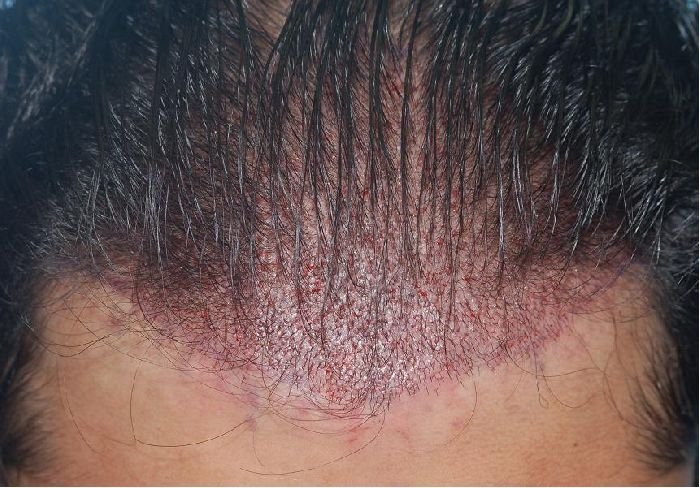 Spider is located in [NA] and he is available to meet: NO
---
Complete thread:
My Story - 2,000 Graft Hair Transplant - Dr. Konior (pre-op and post-op pics)

- Spider, 18.05.2011, 20:22

(Hair Transplant)