Rahal Hair Transplant
servicing men and women with hair loss and thinning hair in the Ottawa, Montreal and Toronto areas.
Dr. Rahal is one of the biggest names in hair transplantation in Ottawa and Montreal, Canada.
Since 1995, Dr. Rahal's mission has been to help people with hair loss to look and feel their best by providing incredibly natural-looking hair transplant procedures with expert and compassionate care.
Dr. Rahal's hair transplant clinic has garnered an outstanding reputation with countless satisfied patients by adopting the best practices in the hair transplant industry, using the latest technologies available and always putting the needs of our patients first.
The clinic's focus is always on the quality of hair transplants and the satisfaction of their patients.
Rahal Hair Institute specializes in an ultra natural hairline by utilizing only follicular units in high-density concentrations. This state-of-the-art method of hair replacement results in the most natural and undetectable dense hairline possible.
Rahal Hair Institute's founder and medical director, Dr. H. Rahal, has dedicated his professional life to providing his patients with the best hair transplant techniques available. These include: follicular unit transplant (FUT or FUSS), trichophytic scar closure, large mega sessions, high density transplants, and natural hairlines - all at affordable hair transplant costs. Dr.Rahal is committed to delivering outstanding hair transplant procedures that make a positive difference in the lives of his patients. The hair transplant photo gallery and the hair transplant testimonials illustrate just some examples of this dedication.
Dr. Rahal Hair Transplant Video Results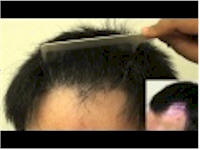 Dr. Rahal hair transplant, amazing high definition video footage and transformation, see what 2989 grafts can do for temporal recession, patient is 1 year post op. Click hair transplant video to watch.

Dr. Rahal hair transplant for patient with diffuse thinning on top and in the frontal area. Video results is 11 months post op after 3976 grafts. Results are extremely natural and undetectable with little or no signs of hair transplantation. Click hair transplant video to watch.