Rahal Hair Transplant
servicing men and women with hair loss and thinning hair in the Ottawa, Montreal and Toronto areas.
Dr. Rahal - Follicular Unit Transplant:
The concept of follicular unit transplants is to relocate hair and its respective follicles from the donor area - the safe zone in the back and sides of the head - to the recipient areas - front, top or crown of the head, eyebrows, eyelashes and facial hair.
Strip Method:
The strip method involves removing a small strip of hair, which may include thousands of follicular units. The strip is then divided into individual grafts, called follicular units, by utilizing stereoscopic microscopes for magnification. It is essential to do this step with the microscope in order to avoid damaging grafts. Each of these grafts may contain one, two or three hairs.
This type of dissection approach allows us to transplant thousands of follicular units and ultimately thousands of hairs in one surgery at one time. A session may vary from a few hundred grafts to more than 5,000 grafts in a single procedure.
This method will leave a tiny donor scar that will be covered by the surrounding hair. Yet, the only time you will actually be able to see the scar is if you decide to shave your entire head.
Suturing Techniques
Trichophytic scar, a unique way of removing the strip and closure, is currently used on all our patients. The advantage of this scar-closure technique is to allow the hairs at the closure point to grow right through the scar. This will add camouflage to the scar and reduce its visibility.
Dr. Rahal Hair Transplant Video Results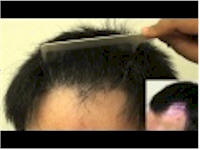 Dr. Rahal hair transplant, amazing high definition video footage and transformation, see what 2989 grafts can do for temporal recession, patient is 1 year post op. Click hair transplant video to watch.

Dr. Rahal hair transplant for patient with diffuse thinning on top and in the frontal area. Video results is 11 months post op after 3976 grafts. Results are extremely natural and undetectable with little or no signs of hair transplantation. Click hair transplant video to watch.