Rahal Hair Transplant
servicing men and women with hair loss and thinning hair in the Ottawa, Montreal and Toronto areas.
11 Reasons Why RAHAL HAIR TRANSPLANT Is the Right Choice for Your Hair Restoration Needs
Experience: Dr. Rahal has been performing hair transplant surgeries for more than a decade.
Commitment: Dr. Rahal performs hair transplant surgery on a full time basis.
Direct Contact: You meet directly with Dr. Rahal and his Patient Advisor for the initial consultation and all subsequent follow up visits.
Location: We do not send you away to another city or location to have the surgery performed. You are treated on site in one of our brand new surgical suites.
Options: Dr. Rahal is able to prescribe and monitor medications proven effective in the battle against hair-loss, such as Propecia® and Rogaine®.
Recognition: Dr Rahal is one of only a few surgeons worldwide to be recommended by the International Alliance of Hair Restoration Surgeons, The American Hair Loss Association and the Coalition of Hair Transplant Surgeons.
Technology: State-of-the-art techniques. Dr. Rahal uses microscope dissection to do FUT (follicular unit transplantation surgery) to produce only 1, 2, or 3 hair grafts, for the most natural effect. Magnification provides the most exact strip-harvesting to ensure maximum yield from the donor strip at removal.
Hairline Design: Creating a natural hairline is an art. We have perfected the proper use of dense packing, hair orientation and placement to create the most natural hairline.
Team: Our highly skilled support team has over 10 years of experience.
Results: Our results speak for themselves. Feel free to view our pictures or meet with a patient.
Advancement: Dr Rahal is totally committed to being at the cutting edge and the forefront of hair transplants. This includes utilizing the latest techniques, such as the lateral slit and the trichophytic closure.
 
Dr. Rahal Hair Transplant Video Results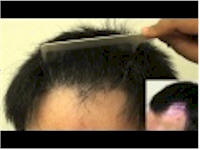 Dr. Rahal hair transplant, amazing high definition video footage and transformation, see what 2989 grafts can do for temporal recession, patient is 1 year post op. Click hair transplant video to watch.

Dr. Rahal hair transplant for patient with diffuse thinning on top and in the frontal area. Video results is 11 months post op after 3976 grafts. Results are extremely natural and undetectable with little or no signs of hair transplantation. Click hair transplant video to watch.