AHD Hair Clinic,
founded by Dr. Hakan Doganay with surgical facilities located at at Liman Mah. 32. Sok. 14/12 Konyaalti / ANTALYA 07400 Turkey.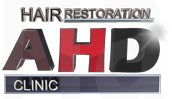 About AHD Hair Clinic - founded by Dr. Hakan Doganay
What AHD offers:
Over 12 years of experience in hair transplantation, experts in natural and undetectable results using advanced FUE or BHT techniques.
High tech tools in FUE Technique, used in an exclusive procedure during operations. Improved Choi Implanter pen technology allows hair transplant to be performed with the least interruption and avoid harming any native donor hair follicles and achieve the possibility of "no-shave transplantation".
FUE/BHT megasession - a highly effective and efficient team, able to transplant up to 5000 grafts FUE/BHT in a single day.
To ensure maximum survival of donor grafts, AHD uses hypotermosol solution to store the donor grafts, this is the same type of solution used for organ transplant and is better than the typical saline solution that is commonly used in the business.
Superior artistic skills and hairline design - thorough planning and careful hairline design that are customized and tailored made to each patient's profile and facial structure.
Availability of both the Motorized Punch and Manual Punch to extract follicular units from the patient's donor area. Having both options available allows for more flexibility in safely extracting the donor follicles from the patient without damaging the grafts. Punch size ranges from 0.8mm to 1.2mm.
PRP - Platelet Rich Plasma, a standard enhancement available to all patients for no additional cost.  PRP is a new treatment for hair that uses the patient's own blood as growth factors to enhance the healing time and yield of the hair transplant procedure. AHD is one of the few clinics in the world that offers PRP hair therapy.