PRP Platelet Rich Plasma Enhanced Hair Transplant,
improving donor site healing and maximizing graft yield using the patient's blood as growth facts, now available at Dr. Hakan Doganay AHD clinic, address Liman Mah. 32. Sok. 14/12 Konyaalti / ANTALYA 07400 Turkey.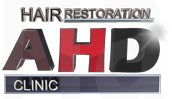 PRP - Platelet Rich Plasma
PRP treatment is a medical procedure known since 1970s, with a proven efficiency in promoting tissues regeneration. It consists in the taking of about 10 CC of patient's blood, which is treated by means of a specific machine. Through its centrifugation we get a high-density platelet gel, able to release re-growth factors.
During our operations, PRP gel is injected in the recipient area and applied to the donor. Injected plasma will stimulate stem cells, while platelets enriched with plasma will have a restoring effect on scalp during the post-surgical period, accelerating healing time and alleviating side effects such as itching and desquamation.