Beard Hair Transplant
offered at Dr. Prabdeep Sohi's Reviva Clinic in Chandigarh India with surgical facility located at SCO No. : 1-2-3 F.F, Sector : 17 D, opposite Park Plaza Hotel. Additional facility also located in Delhi at A-32, Block A, Gulmohar Park, Near Siri Fort Auditorium. 

Dr. Prabdeep Sohi
Beard Hair Transplant India
Beard Hair Transplant is another new advance in hair restoration now available in India. This is another example of how fast the world of hair transplantation has been evolving and improving. Back about 10 years ago, this option was simply not possible without a lot of trauma for the patient.
Beard hair transplant or sometimes referred to as facial hair transplant a microsurgical hair transplant procedure that involves the use of FUE technique. This method is sometimes referred to as a subset of body hair transplant, which enables donor hair harvest to take place almost anywhere on the body, outside the traditional mid-rear scalp zone.
Beard or facial hair transplant is usually requested by men with insufficient facial hair such as beard, sideburns or moustache. Believe it or not, it is actually a very common complaint by men as many believe that an abundance of facial hair can improve their aesthetics.
Candidates for beard hair transplant procedures - before FUE becomes available, facial hair transplant is simply not practical for many surgeons to perform.
Besides restoring facial hair, Beard Hair Transplant is also sometimes used to refer to the procedure where the surgeon uses beard hair as donor and transplant them to balding areas in the patient scalp. In recent years, using beard hair as donor has become widely popular especially for repair patients because of the robust nature of beard hair as donor. It has been reported that beard hair has superior survival rate and they grow better in scars than other donors, hence perfect for many repair or severely scarred patients.
Using beard hair transplant as donor can:
Create dense coverage for severely bald patients;
Fill scars from prior surgeries;
Be used in combination with head hair to create a more natural look.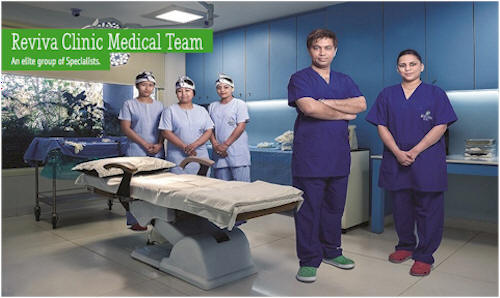 Reviva Clinic medical team