Dr. Prabdeep Sohi Hair Transplant
hair restoration and surgical clinic for men and women located at Reviva Clinic, SCO No. : 1-2-3 F.F, Sector : 17 D, Chandigarh, India. Additional facility also located in Delhi at A-32, Block A, Gulmohar Park, Near Siri Fort Auditorium New Delhi, India.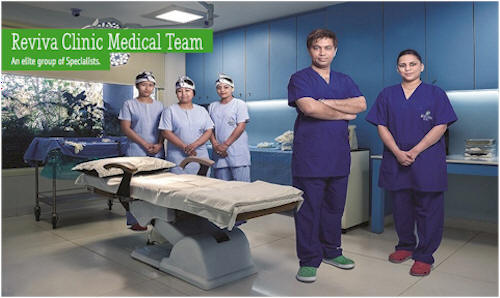 Reviva Clinic medical team
Why Reviva Clinic?
Dr. Prabdeep Sohi is the founder of Reviva Clinic in Chardigarh (Punjab), one of the very few FUE exclusive clinics in the world.  FUE stands for Follicular Unit Extraction and it has taken the medical hair restoration industry by the storm in recent years.
While the majority of the hair transplant industry is still performing old fashioned "strip" technique for their patients, some elite hair transplant doctors elevate their status in the business by offering the FUE exclusive route for men and women with hair loss.
Besides being one of the very few FUE exclusive clinics in the world, Reviva also distinguishes itself by staying away from the franchise or factory assembly line mentality of other clinics in the world where the procedures are often times performed by technicians with insufficient supervision or guidance from the doctor or surgeon. The outcome is of course subpar results that leave patients no choice but to pursue numerous repair sessions in order to fix the problems from their very first procedure.
In contrast, the whole process and experience are very different at Reviva Clinic. Quality control is #1 top priority at Reviva Clinic. All procedures at Reviva are executed under direct control and supervision of Dr. Sohi himself to ensure that the patient receives the highest quality possible for every donor extraction and every graft placement. There is no compromise.
Image & Style
While using the most advanced FUE technology and unyielding quality control are important, equally critical is image & style. Technical skills and quality control can always be acquired and equipped over time by a competent doctor with good intentions, but artistic skills are innate and cannot be taught. After all, this is a task about restoring one's confidence and self esteem. Under the guidance of Dr. Sohi, every end result must accomplish the goal of projecting the image and style that align with the patient's facial structures and personality, the job is not done unless it is punctuated with the style that energizes the patient's inner beauty and personality. Image, style and artistic skills are the soul for every successful hair transplant. Reviva Clinic, like any other top ranked hair transplant clinics in the world, recognizes that.