Facial Hair Transplant India
offered at Dr. Sajal Halder hair restoration clinic located at at A-10/3, G.F., Vasant Vihar, New Delhi. 
Hair transplant is no longer reserved for restoring scalp hair. Nowadays hair transplant can be used to treat a variety of hair related conditions and disorders, facial hair transplant is one of them.
In the hair restoration community, facial hair transplant is a procedure commonly used to restore goatee and mustache for patients as well as to facial areas such as cheek, beards and sideburns. Sometimes the patients lost these facial hair due to accidents or injuries while other times the patients were simply born with little or no facial hair such as moustache to begin with and they desire the option to be able to grow facial hair. 
While pharmaceutical companies have invented medication such as topical Minoxidil (brand name Rogaine) and  Finasteride pills (brand name Propecia) and approved by the US FDA as proven hair regrowth and anti hair loss treatments, it is unclear whether these medications can have the same effect on facial hair growth or not. The reason is that especially for the case of Finasteride which is a DHT inhibitor (via inhibiting type II alpha reductase), many in the hair loss community suggest that the effect of DHT actually functions the opposite way when it comes to scalp hair vs body or facial hair.  So it may be possible that Finasteride hair growth pills may have no effect or even the opposite effect for facial or body hair growth. Minoxidil on the other hand may have a benefit for facial hair growth, but clinical studies related to minoxidil and facial hair growth are limited. There are, however, anecdotal evidence that some women reported facial hair growth while using topical minoxidil on the scalp.
In the absence of a viable growth stimulant for facial hair, hair transplantation becomes the only effective solution for someone desiring more facial hair such as moustache, sideburns, goatee etc.
Similar to conventional hair transplant procedures for scalp hair loss, the number of grafts required in a facial hair transplant largely depends on the goals and expectations of the patient and the available of donor follicles. In any given session, the number of grafts involved can vary from a few hundred to even thousands. For example, for moustache restoration, typically about 350 to 600 grafts is need, full goatee normally requires 600 to 800 grafts, sideburns 300 to 400 grafts per side, beard reconstruction 600 to 1000 grafts per side. If the patient desires more density, sometimes a second session may be required.
In facial hair transplantation, the donor hair comes from the scalp. So it is essential that the patient has a good supply of scalp donor hair when consider facial hair transplant. If the patient is already suffering from scalp hair loss, then it may be a challenge looking for donor hair for his facial hair procedure.
When done by an experienced surgeon, scarring is usually not a problem in facial hair transplantation. Over the years we have seen very few incidences of visible scarring due to facial hair transplants.
Once transplanted the hair are permanent. To provide a natural appearance the hair are transplanted as one and sometimes two hair grafts depending on how the facial hair grow. Other important factors include angulation and direction of the transplanted grafts, needless to say the transplanted grafts have to be in perfect alignment with the natural facial hair characteristics of the patient otherwise it will not look natural.
Equally important is the use of all microscopically dissected grafts that can be placed in the smallest possible recipient sites so as to minimizes scarring and even the aesthetic of any existing gray hairs into the restored area.
Procedure:
The procedure is usually performed under local anesthesia with an oral sedative depending on patient choice. It last 2 to 5 hours, for the first 5 days after the procedure tiny crusts are formed around each transplanted hair and the transplanted area must be kept absolutely dry. In most cases, the patient can resume most of his daily routines by the 5th day post surgery.  The transplanted hairs will usually shed in about 2-4 weeks. After then the grafts will go through a dormant cycle and in about 3 months they will start to grow.
In India, Dr. Sajal Halder is one of the few physicians who offer facial hair transplants.
Below is a before and after picture for one of Dr Halder's patients who had facial hair transplant done: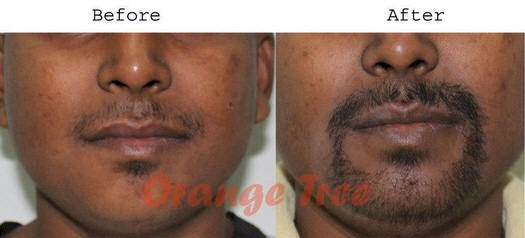 *Dr. Sajal Halder is a sponsor of HairSite