Rahal Hair Transplant
servicing men and women with hair loss and thinning hair in the Ottawa, Montreal and Toronto areas.
Dr. Rahal - Eyebrow and Eyelash Transplant:
Eyebrow hair maybe lost due to overzealous plucking, trauma or genetic/racial reasons.
Using ultra follicular unit transplant techniques, Dr. Rahal can restore these lost eyebrow hairs in a natural and undetectable fashion. The end result will we mimic the pre loss conditions.
The key elements in achieving undetectable transplanted eyebrows will depend on the direction and orientation of the transplanted hairs as well as the transplanted density.

before eyebrow transplant

after eyebrow transplant
Dr. Rahal Hair Transplant Video Results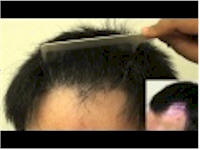 Dr. Rahal hair transplant, amazing high definition video footage and transformation, see what 2989 grafts can do for temporal recession, patient is 1 year post op. Click hair transplant video to watch.

Dr. Rahal hair transplant for patient with diffuse thinning on top and in the frontal area. Video results is 11 months post op after 3976 grafts. Results are extremely natural and undetectable with little or no signs of hair transplantation. Click hair transplant video to watch.