Dr. Klein's Formula
Prescription Strength Men & Women Testimonials
These real testimonials and un-retouched photos come from male and female patients who have used Dr. Klein's Formula over the years. Many had tried other hair re-growth products and treatments without success before trying out Dr. Klein's Prescription Strength Formula.
Dr. Klein's Formula Patient Testimonials
Dr. Klein,
The photos that show tremendous progress in just 3 months. Prior to starting Promox I used Hair Genesis for 3 months with very little progress. My routine consists of:
1. Promox spray 3x per day (4-6 pumps)
2. 2 different shampoos (on alternating days). One with saw pallmetto and biotin; and the other with copper peptide.
At some point I'm thinking of starting a website to assist in selling it.
Len R.
Hello
I started seeing my hair fall out when I was a junior in high school in 1997. I began using Rogaine in early 2000. I got decent results, however a doctor recommended that I not use Rogaine because it doesn't really work to re-grow hair. So I stopped using it. At the end of 2000 I visited a Bosley Center, where they did 800 grafts in the front of my head. The grafts never grew. I visited another doctor who informed me that at 21 I was too young to have gotten grafts. He told me that Bosley has been sued so many times. He said I was too young and I have to be at least 30 years of age to do hair transplantation. I have lost 15.5 cm of my donor area. I wish I had known someone who would've told me not to visit Bosley. I then went to Virginia where I found a hair replacement company (European Fusion???). I was sold a piece for $3,000. I was told that this piece would be permanent and it will never come off. When I came back to Los Angeles it was already getting loose and after 6 weeks I took it off. Next I visited a few times with Richard Farrell for hair replacement piece and he claimed that he is number one in the world and he showed me pictures of models and told me that these are his clients. When I was sold the hair piece it was not what they promised me and it was not worth paying $ 4,330. I requested my money back they refused to give me my money. They refused even to talk to me. I again started researching hair transplantation for sometime, but another doctor in Atlanta told me not to do since I am too young.
One day I was browsing on hairsite.com about hair loss and I read about RE-MOX™. I asked hairsite.com if it would be better than Rogaine and he told me yes it is stronger. I received the first bottle on January 9th of 2006 and the same day I started using it. At the beginning it was a little irritating, but I quickly got use to it. After 3-4 weeks I saw some improvement. But then after 6 weeks I looked at the mirror I saw that it really is different than before. I took another picture after 8 weeks and it was more improved than 6 weeks. It helped me grow hair in the frontal and crown area. I am very pleased with the results. I am not considering hair transplant anymore. I tried so many drugs and visited so many doctors nothing helped. I have been using Propecia for years, and thanks to that I am not losing any more hair. However, Propecia didn't grow new hair but my weak hair became back to normal. I used Rogaine it helped grow some hair but I had puffy eyes, facial and body hair, rough skin and it made me look 5-6 years older than my age. Then I stopped Rogaine. I didn't want to use Minoxidil anymore but hairsite told me to use from a different company it might a different. With RE-MOX™ III 5% I am very happy. It made me look younger than before. I was lost and now I have confidence. I still have a spot in the crown area but I hope that I will grow enough hair to cover that spot. I am very excited what will happen after 3-6 months. I want to thank Dr. Klein for that Product.
Thanks Dr. Klein
M.I.
Dr. Klein,


I just wanted to say thank you! Your Promox spray formula is a home run!!

I had some diffuse thinning through out the crown---front to back. I tried scalpmed with some marginal results. I stopped using it after about six months because of really poor customer service and switched to generic minoxidil that I bought from Target. I stopped that after about two months and just used an organic herbal shampoo which included saw palmetto and nettles. Although I had continued to shed the average 100 to 150 hairs per day, it seemed that the appearance of thickness was acceptable. I did this for about three or four months.

At about the fourth month I noticed significant shedding at about 300 hairs per day, this was just an estimate since I couldn't count every hair nor was I about to. This continued for about three weeks and I did some research and found that this was called "telegen effluvium " a flowing out if you will of about 70% of total hair volume. I knew this was temporary but nevertheless very annoying to say the least. I knew I might have some mild thinning genetically since no one in my family tree on both sides of my parents for several generations had major hair loss, but this was ridiculous!

I happened upon your web site and thoroughly researched you findings and I was intrigued. I had just clipped my hair down to stubble, not a bad look actually and received very positive feed back. Once I reckoned with this I thought why not give your product a try, at this point what did I have to lose (no pun intended). I called your number and left a message and the next day YOU actually returned my call, we spoke briefly and you suggested Promox spray and based on my research it seemed to make the best sense.

You told me matter of factly, that I would have my order in five business days and that it would grow my hair back. Sure enough I had my order in five days: And within three months IT GREW MY HAIR BACK!!

I started Dec 6th and today is March 6th and I have had a full recovery. My scalp is completely covered in thick dark brown hair.

At first my scalp would be slightly irritated like a mild sunburn and then it would peel, this went on for about the first few weeks or so. I found in the beginning it's not a good idea to lightly rub it in, just spray four sprays three times daily and that's it. After my hair started to grow back then I found it necessary to do a little light rubbing in and had no more issue with irritation.

Now perhaps in the next month or so I should be on a maintenance phase of one application per day, my ONLY regret is not taking any before photographs. I must say Dr.klein and Physicians Hair Growth should be in mainstream Americana!! EVERYONE SHOULD KNOW ABOUT IT!!! For anybody reading this that is concerned or greatly distressed about the sense of loss that comes with losing your hair, I completely understand. I would tell you to make peace about who you are regardless if you have hair or not, it truly dosen't define you. Nevertheless if you prefer yourself WITH hair, God in his mercy has provided many solutions and has given Dr.Kein the wisdom to help people in their time of need.

Dr.Klein, you are a blessing, and I pray that you continue to prosper in every area of life. If used as directed PROMOX SPRAY WILL GROW HAIR!!

Thanks again Dr.Klein.

Charles H.
Dear Dr. Klein:
I am overjoyed to announce that hair is actually growing on the ol' 8-Ball that is my cranium! My girlfriend definitely noticed, as she would always pat & stroke the bald spot and make some stupid comment just to annoy me. Now she strokes the "now not- so-bald spot" and exclaims how silky it feels...feels good to me too!
I wish to keep up the treatments and see where they lead! Might even keep my head warm in the winter.
We sure do love ya, Dr Klein
My hair is back I shall not whine
Although this is a crummy rhyme
We sure do love ya, Dr Klein
Anonymous
When I read on the HairSite about a new hair study by Dr. Klein I thought I should try it, but I was very skeptical. For some reason, I did not believe it will work. I tried some products in the past, but they did not work for me. I made an appointment, but I almost cancelled it the last minute, because I thought it was a waist of time. More or less, I did not expect anything, but because it was free I decided to go ahead and try it.
Dr. Klein was very friendly, and he explained to me the purpose of this study. After he collected some information from me he gave me one of the 3 samples (sample A, a spraying bottle with lotion inside). I was instructed to apply the lotion on the bald spots 3 times a day. I started using the product the next day. The application was very easy to use. I had to put small amount on my finger, and rub it on the bald areas of the scalp until it dissolved.
A few weeks later (3-4) I started noticing a small new hiar on some areas of my bald scalp (especially in the middle of the section of my scalp). In the beginning the hair was very small, and the color was very blond. As the time went by, the hair became longer and starting matching my own hair color (medium brown). I noticed a lot of growth in the middle section of my bald area, and then some growth started on the right side. Five months later I still see growth, it is very slow, especially on the left side. The right side looks a little bit better than the left side, and the middle area looks the best.
I did not notice any side effects from the application of the product. The end result after 6 months is that I have new hair on my head. The whole balding area is not covered with hair yet, but I hope the hair growth will continue, so it covers the whole area.
Anonymous
I noticed my hair starting to thin in the front about 3 years ago and it slowly got worst. I did make a trip to the mens hair club in downtown San Fransciso where they ran a small portable microscope through my hair and showed me just how bad it really was not just in the front but also on the crown. The price to replace my hair was to high and probably painful.
I looked around for topical products and tried one that did not work so I became very skeptical. I read up on some ingredients being used hair regrowth products and found there had been success with Minoxidill and Tretinoin. That lead to Remox1 and 2 along with some Saw Palmetto. After using the products for 6 months I could see the progress, my hair stopped thinning and started to grow back. Progress is gradual but the product does work. My barber use to have a hard time with the hair line in the front because part of the right side was eaten away but now its easy. I still have a little progress to make and I know I'm using something that works. Thank you Dr. Klein.

Sincerely
Carlos M.
Dear Dr. Klein:
I have been using Remox II for a month and I noticed a good regrowth on the vertex area and also improvement on the rest of the scalp. Overall the situation is getting much better and the hairs are thicker. I passed from a Hamilton 3/4 vertex to a 2/3 ... some days ago I also started using Remox and I like it because its' application is quick and simple. I'm sure that if I continue to use Dr. Klein's preparation my hair will be here a long time! Grazie Doc!
My best Regards,
ciao.
Alessandro
Hi, Dr. Klein!
I, along with thousands of others have been a victim of bad hair transplantations, which have left my head scarred and my social night-life destroyed. To improve my appearance, I tried using propecia but it didn't work for me.I also tried using Rogaine but it only caused my head to irritate so much that I couldn't stop itching it. That's until I discovered your product.
In the first few months, I wasn't seeing any results and I was starting to get depressed thinking that your product wasn't going to work. That's until my barber started to notice that I was growing hair. Soon afterwards, my friends and family started to notice also.
So far it's been 8 months that I've been on Remox 1 & 2 and I'm continuing to see great results. And just a month ago, was the first time in 8 years, I stopped wearing a hat whenever I ventured away from home. Could you believe that? 8 years!!! Keep up the good work and hopefully one day you will discover the magic bullet to end all hair loss. Good Luck and I thank you for what you've done for me and thousands of others.
Warmest regards,
Nick K.
Dr. Klein,
I just want to say how thankful I am that I've found this product. I've been using REMOX with Propecia for nearly three months and have seen noticeable differences. I think the best examples of the changes are when co-workers and family members comment on the amount of growth they are seeing. I have had no side effects to this point and have found it real convenient and easy to use. Dr. Klein, you are such a delight to talk with also. It has been a pleasure getting to know you through our phone conversations. You are always very thorough and patient in your explanations and answering of questions. I would recommend your product without reservation. I do hope the Good Lord sends you a special blessing for helping so many others like myself.

Thanks again so much. 🙂
Audie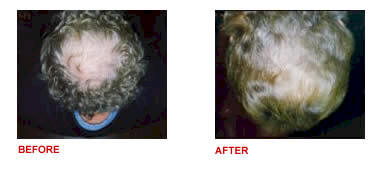 Dear Hairsite,
Having spent some time on the Topicals forum, I know how many folks out there are looking for decent before-and-after pictures as a way of gauging the objective success of various regimens we keep hearing about. So, I decided to send in my own pictures in the hopes that they may be of interest to some HairSite members. The two Before picturess (I'm wearing a white shirt) were taken in August 2002, right before I started a hair restoration regimen - at age 39 - that I'll detail as follows:
REMOX I (minoxidil 5%, retin-a .025%) - twice a day all over scalp
REMOX II (minox 12.5%, retin-a .025%, hydrocortisone .01%) in frontal/temporal area
Nizoral 2% shampoo 3-4 times per week
Vitamin B6 - 50 mg daily
Vitamin B12 - 1000 mcg daily
Vitamin E - 800 IU daily
2 multivitamins daily
Also, about 6 weeks ago, I added 320 mg per day of Saw Palmetto (standardized extract), and this seems to have helped with frontal regrowth.
The two After pics (I'm wearing a blue shirt) were taken in August, so they represent approximately 1 year on the aforementioned regimen. As you can see, I've experienced great regrowth in the crown area, and more modest regrowth in front. I have no idea how representative these results are, but I'm hopeful that others may experience similar success.
Best regards,
Algorithm
Dear Dr. Klein,
I am now in my sixth month of using REMOX™, both one and two, and continue to see impressive results and new hair growth.
This week alone my boss, a co-worker, and my brother-in-law all made comments about my hair growth. All of these comments were unsolicited and quite frankly I thought at first that my brother-in-law was teasing me since we have both been losing our hair for many years. But the proof of the pudding is in the eating, as some would say, and there's no denying that I'm growing hair in places where it hasn't been in years, front and back.
I would encourage those who are looking for answers to their hair loss problems to try your treatment for at least eight months since the most difficult time for those who start a hairloss program is the first six months of treatment. This is a gradual processs and many times many cannot see any any discernable improvement in their hair loss for the first few months. I can't tell you how many times I wanted to quit, thinking I wasn't getting anywhere the first few months, but in this endeavor 'Patience truly is a virtue'.
As an adjunct to the REMOX™ program I have also been using Propecia and vitamins with Saw Palmetto as an anti-androgen, so I would encourage those to also consider using all these things collectively to attack the problem of hair loss. Once again, I would like to thank you for all your help and will continue to watch as the miracle unfolds before my eyes.
Sincerely,
John C.
Hi Doctor Klein,
Your products are wonderful and well-priced. Thank you for giving me hope and relieving the fear of baldness. The density of my hair is much thicker, thin spots have begun filling in with nice hair. I will continue treatment with your REMOX products indefinitely. I appreciate you writing me a prescription for Propecia. Both products are functioning together, enhancing my hair growth.
Recently, I started using your Saw Palmetto formula which contains the recommended 85%-95% sterols and fatty acids, the clinically proven potency. I take a minimum of 320mg daily which not only helps to lower my DHT but also prevents the remaining DHT from binding to receptor sites, hair follicles and the prostate gland. Propecia has inhibited the type 2-5aplha reductase enzyme and lowered my overall DHT level by at least 60%. I also take green tea capsules which inhibits the type 1-5aplha reductase enzyme that is found primarily in the skin.
I am now using REMOX II in the front right temple area of my hair, I will continue using as directed...
Thank you Dr. Klein.
Erik
Dr Klein,
I read your web page and tried the Remox II lotion. In six weeks I notice it staring to work. In about three months my hair line started to be working its way back. I can testify that your products work. It has brought my hair in the front back. THANKS !!!!!!! Please feel free to use this email or anything else that I can do as a testimonial for your product. It worked for me.
Thank you !!
Herman L.
Dear Dr. Klein,
I am having great success with your product, thank you. After only five weeks using it my hair has thickened up considerably with thousands of what, at the moment, can only be described as downy hairs all along the hairline and scalp. Results I could only of dreamt about until now ----- I wished I'd found your product years ago.
Regards.
Chris J.
Dr. Klein,
I would just like to say Thank You for developing such a wonderful product. I have been using REMOX™ for about 3 years now, and I have noticed that my hair loss has completely stopped and that my thinning spots have been gradually filling back in.
I am a 32 year old male and I have been losing my hair for the past 13 years or so. I have tried all the products on the market including Rogaine and none of them seemed to work for me. I started using your product after I had heard about how a combination of Minoxidil and Tretinoin can provide a potent one two punch in knocking out male pattern baldness. I wish that I would of started using your products earlier, so that I wouldn't have so much hair to fill back in, but I feel eventually it all will with REMOX™.
Thanks Again,
Jason
Dr Klein:
I just wanted to send you a note to say how happy I am with your product. I have been on REMOX since November 1999 along with a daily 1mg dose of Propecia. The results are astounding! Not only do I notice the difference in my hair, co-workers, family members have noticed the difference. This is from someone who had shaved his head for approximately two years because nothing seemed to work.
Thanks once again for your assistance. Please feel free to use this testimonial!

Frank X. McGowan
Philadelphia
Dr. Klein:
I am a 35 year old male who started losing my hair in my mid twenties. As a result of this I had begun to see the classic horseshoe pattern at the crown of my head and very noticeable receding hairline. I told myself that it didn't matter, started combing my hair to try and cover it and eventually just wore a base ball cap all the time. At the same time I started using Minoxidil 2% then switched to 5% when it became available. I even added Propecia to my routine with marginal results. I still had hair falling out in the shower on my pillow and in my comb. Needless to say I was desperate for a solution when I found Physicians Hair Growth on the internet.
I called for my free consultation with Dr. Klein I was surprised to find that he and his staff were more helpful than the dermatologists I had seen in my area. I started using Remox in November 1999 and by the end of the first week I noticed no more hair in the shower drain, in my comb or on my pillow. I now have reduced the balding on my crown significantly. Remox is even putting back the hairline that had been eroding for the past ten years. I am seeing new growth every week on all areas of my scalp!
My self esteem is back and I have even ditched the base ball cap. Dr. Klein's formula is the most effective treatment for hair loss that I have used.
Thank you Dr. Klein.
Rob, California
Dr. Klein,
Although I have not compared pictures, I believe that I can objectively say that Remox is working. I am happy with the product and intend to reorder it. I have read about it on the website and the science behind it makes sense to me. Especially since it seems the problem with Rogaine and the scalp is that Rogaine alone does not have enough absorption. I have found that using Remox about 3 times a day---morning, lunch, before bed, does not cause any flaking or inflammation of the scalp.
Thank you.
B.R.
Dear Doctor Klein,
I am writing to share with you my great happiness as the result of using your product, REMOX™. Your product has saved my self-esteem. I am 43 years old, and my hair has been thinning slowly but steadily for over 15 years. During this time, I have done what many women do, add blonde color to hide the thinness and stop looking in the mirror. I was very vigilant about standing under spotlights, or in direct sunlight (that not just for thinness, but scalp burning). I never talked about it because then it would draw attention to it and I didn't want people to notice it any more than they already did. I really did suffer in silence. Eventually I wore my hair up more and more and sort of stopped looking at it in the mirror.
One day, following someone telling me about hair transplantation I went for a consultation. There, they took pictures, and I was able to see just how bad my thinning was–and I was horrified. It is amazing what you don't see when you don't look. Anyway, they told me that I wasn't a good candidate for hair transplantation because the sides of the head where they would harvest the hair from were too thin (unusual for a woman, I had male pattern baldness) and they couldn¹t harvest enough hair to fill all the thinness on my head. I left there devastated, incredibly depressed and resigned myself to the idea of Rogaine, which I had bought, but was a dreadful product.
I was visiting a relative in NY who had a friend who had used your product and recommended you to me. The rest as they say is "history". I started using your product REMOX™ on October 1, 2003 and started seeing growth within a month. Now I realize that many do not see results that fast, and in fact you had supported me in being patient as it can take some time for the product to show signs of working. As you see by the photographs that I have sent you, my hair has grown in so much I find it absolutely unbelievable. I have a full head of hair after only 10 months. My hair is healthy and thick. The very front of my scalp is still filling in and I expect that by year's end I might likely be going on a maintenance regime. I know that if I were some random person reading this letter to you, I would think this a hoax; but all I can say is that this product really works, and as I said earlier, you have saved my self-esteem.
I don't think about my hair (in that old worried way), I run my hands through it, I brush it and I smile broadly when anyone compliments me on it, and guess what?......People compliment me on my hair, that has never in my life happened. Recently I went to the annual conference of psychotherapists that I attend religiously, and as you might have guessed most of the 200 people hadn't seen me in a year. I am very well known in this organization so people see me and recognize me. Well I must say that at least one third of the people commented on my hair....."your hair looks great, did you cut it? Is it longer? Is it blonder? Is it darker?" They didn't know and I didn't tell them, no IT'S THICKER!!!!!!! I just felt great. The other bunch of folks just told me how great I looked, and that was about the huge smile on my face and my feeling so good about myself. These people were used to seeing me in baseball caps and with my hair up, who knows when last they saw me with my hair down. Well watch out world, my hair is down and I feel and look great.
Dr. Klein, thank you so much for this product. Please keep making it, and put it in BIG bottles. And when your ready for a business partner in DC, I'm here and ready to GO!
S.B. Washington DC
From A.A.R., New York
"I never believed that I could trust anyone on the "web", there are so many shysters out there, especially in the "hair re-growth" field. It seems anyone with a couple of bucks and a hustle can create a fancy concoction and sell it on the internet, with all types of hyped up research. Because of this and many years of experience in losing hair, I decided to consider only medically approved formulas.
There are only a few real sites out there that are directed by medical doctors and after careful research, I found that the most unique, professional web site was Physicians Hair Growth, run by Dr. Oscar Klein. This web site is as close to a private medical office as cyberspace will ever allow.
Dr Klein is professional, knowledgeable, kind and always available for consultation about any problem. He believes that he has a personal responsibility to each patientm, and you can hear it in his voice when he speaks with you. He does not accept any patients into his program without a personal consultation, which is unheard of in the hustle and bustle of the internet.
Furthermore, his medication, REMOX™ is fantastic for hair regrowth and maintenance. It is safe, easy to apply and economical (his product is less than 1/2 the price of a similar, much weaker product sold by another doctor on the web).
I have been using the product for 6 months and still can't believe the great results I have gotten. I am overjoyed with my new, rapidly growing hair in areas where there was none. I had given up hope, after using many worthless "hair growth" formulas, with zero results. Thank heaven, that there are still good, caring physicians out there, even in cyberspace."
A.A.R.
New York