Rahal Hair Transplant
servicing men and women with hair loss and thinning hair in the Ottawa, Montreal and Toronto areas.
Dr. Rahal - Follicular Unit Extraction or FUE Hair Transplant:
Follicular Unit Extraction (FUE) is one of the latest advancements in hair transplantation. FUE differs from the strip surgery in its method of harvesting the donor area. Those patients who prefer to avoid the donor scar from the strip surgery may take advantage of the FUE procedure.
We still utilize the follicular unit approach for the restoration process but instead of removing a whole strip we transplant one individual follicular unit at a time. The instrumentation we use is so small that the donor area is left with tiny, almost invisible marks. The main advantage of this approach is that it provides flexibility to have a very short hairstyle or even shave the donor area.
With FUE hair transplantation, the donor hair available for extraction is maximized due to the ability of Dr. Rahal to harvest hair from throughout the 'permanent zone', including nape hair. Additionally, Dr. Rahal can select the follicular units that will offer the most hairs per graft, and produce an optimal yield. Conversely, strip procedures limit surgeons to using only those hairs found in a single strip of scalp tissue.
Sometimes FUE & FUT hair transplant surgery can be combined under the correct circumstances to maximize the donor area and provide the most follicular units to be harvested in one procedure. This could benefit those in an advanced Norwood Scale of hair loss and looking to achieve the best coverage and density in one hair transplant session.
FUE is a particularly good option for those with increased risk of donor scarring (Asians, for example). It also serves as an alternative for those who do not have enough scalp laxity to undergo traditional strip excision. FUE can even be used to repair linear donor scars (from previous strip procedures) that cannot be excised.
During the FUE post operative healing period, there are only a few limitations placed upon the patient for the first 2 weeks or so. Patients rarely report any donor area pain from the excision area. The donor area can be washed as vigorously as necessary. Hair grows out from the donor area fairly quickly, so by one week after an FUE procedure most donor wounds will be covered by a short beard-like growth of the hair making the donor excisions nearly undetectable.
The table below summarizes the pros and cons of Follicular Unit Extraction:
Advantages of FUE
* No linear scar
* No need for sutures
* Good choice of procedure for patients with short hair
* Good option for patients with previous scarring or a tight scalp
* Good choice if a limited number of grafts are required
* Quick healing time
* Minimal discomfort after surgery
* Less downtime/able to resume normal activities and exercise quickly
Disadvantages of FUE
* Time consuming procedure
* Costs more than FUT
* Risk of damage to the follicular units
* Limited supply of donor hair as some hair must be left to cover the rest of that area
* Small scars may obstruct nearby follicular units which can be problematic if further sessions are required
* Not enough suitable candidates for unit extraction than with FUT
* May be difficult to achieve an 'even spread' of units
* More than one session is needed
size of grafts from FUE
Dr. Rahal Hair Transplant Video Results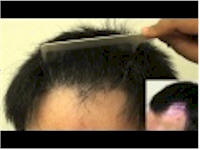 Dr. Rahal hair transplant, amazing high definition video footage and transformation, see what 2989 grafts can do for temporal recession, patient is 1 year post op. Click hair transplant video to watch.

Dr. Rahal hair transplant for patient with diffuse thinning on top and in the frontal area. Video results is 11 months post op after 3976 grafts. Results are extremely natural and undetectable with little or no signs of hair transplantation. Click hair transplant video to watch.