Dr. Umar Hair Transplant Reviews & Rankings
#
Worldwide for megasession BHT repair
Top
Overall Ranking Worldwide
Published Results on HairSite
Yrs of uninterrupted patient records
FUE

Follicular Unit Extraction

ULTRASONIC FUE

FUE extraction using Ultrasonic vibration

NO SHAVE FUE

No shave FUE for minimal downtime

MEGA-SESSION

#1 megassession repair clinic
BHT

Body hair to Scalp Transplant

FACIAL

Beard & Facial Hair Restoration

TRAINING

Hair transplant physician training

EYEBROW, EYELASH

Eyebrow & Eyelash Restoration
About Dr. Umar Sanusi - Dr. U Hair Clinic

Director of Cosmetic Dermatology; Harbor-UCLA Medical Center, Division of Dermatology, Department of Medicine
Dr. U Hair & Skin Clinic with hair surgery facilities located near Los Angeles at 2121 N. Sepulveda Blvd #200 Manhattan Beach, CA 90266.
Dr. Umar hair transplant is one of the biggest names in hair restoration in the world. He has surgical hair restoration clinics in both Los Angeles and Beverly Hills, California and over the years there are countless hair loss sufferers who flew all over the world in order to seek the latest and the most advanced hair loss treatments from Dr. Umar's clinic.
Dr. Umar's Credentials
Director of Cosmetic Dermatology; Harbor-UCLA Medical Center
Division of Dermatology, Department of Medicine
Inventor of the revolutionary uGRAFT FUE technique
Dr. Umar is one of the very few FUE-exclusive hair restoration clinics in the world. FUE stands for follicular unit extraction, it is one of the latest and most advanced techniques in hair restoration nowadays. There are numerous advantages to FUE procedures, including fast healing time, no visible linear scar and the ability for the patient to have more flexibility in hairstyle options after the procedure.
Besides famous for his FUE technique, Dr. Umar is also a world renowned top notched BHT (body hair transplant) doctor especially when it comes to using body hair for severely scarred hair transplant repair patients. Since becoming a featured doctor on HairSite 10+ years ago, Dr. Umar has showcased numerous highly acclaimed hair transplant repair cases that most doctors would never dreamed possible.
Dr. Umar completed his internal medicine residency tenure in East Meadow, New York, and later on board certified by the American Board of Internal Medicine. Dr. Umar then undertook a 3 year intensive post graduate residency training in Dermatology. Following certification by the American Board of Dermatology, Dr. Umar undertook an intensive fellowship training in general cosmetic surgery at the American Academy of Cosmetic Surgery, leading to board eligibility by the American Board of Cosmetic Surgery. Presently, Dr. Umar is the only hair transplant doctor offering FUE & BHT procedures on a routine basis in California.
Inventor of uGRAFT - Redefining how FUE is Done Worldwide
Dr. Umar is the famous inventor of uGRAFT with a host of patented devices and innovations that redefine how FUE hair transplants are done nowadays. The first in the world to introduce ULTRASONIC FUE that uses sonic vibrations to ensure that FUE donor harvesting is performed in the least invasive and most effective fashion. 
Dr. Umar Hair Transplant Landmark Cases
8000 grafts head FUE & Beard Hair Transplant
Hair restoration for extreme baldness. In this case, Dr. Umar accomplished the impossible in hair transplantation. If you refer to this photo below, you will understand why many doctors would immediately write this off as a death sentence when it comes to hair loss.  This is massive baldness at the extreme, a truly slick bald situation with near zero head donor.  No doctor in the world would dare to attempt such a case, until the arrival of Dr. Umar.  Click 8000 grafts head FUE and Beard hair transplant for details about this groundbreaking landmark case.
15,000 grafts head FUE & Body Hair Transplant Combo
Another FIRST from Dr. Umar.  At the time this result was published on HairSite, no other doctor had successfully performed a BHT+FUE combo procedure using over 15,000 grafts. This was a first of its kind in the history of hair transplantation, a pure megasession BHT body hair transplant story. Click 15,000 grafts megasession body hair transplant epic restoration for details.
Your Next Step
Please note that not every person is a good candidate for hair transplantation. A lot depends on your goals, expectations as well as your donor supply. While Dr. Umar's work seem miraculous by today's standards in hair restoration, there are still limitations as to what can or cannot be acccomplished given your very individual needs.  Your first step is to start a FREE consultation and see what options you have and whether hair transplantation is really something that can help you. Click button below to start.
Dr. Umar - King of Body Hair Transplant (BHT)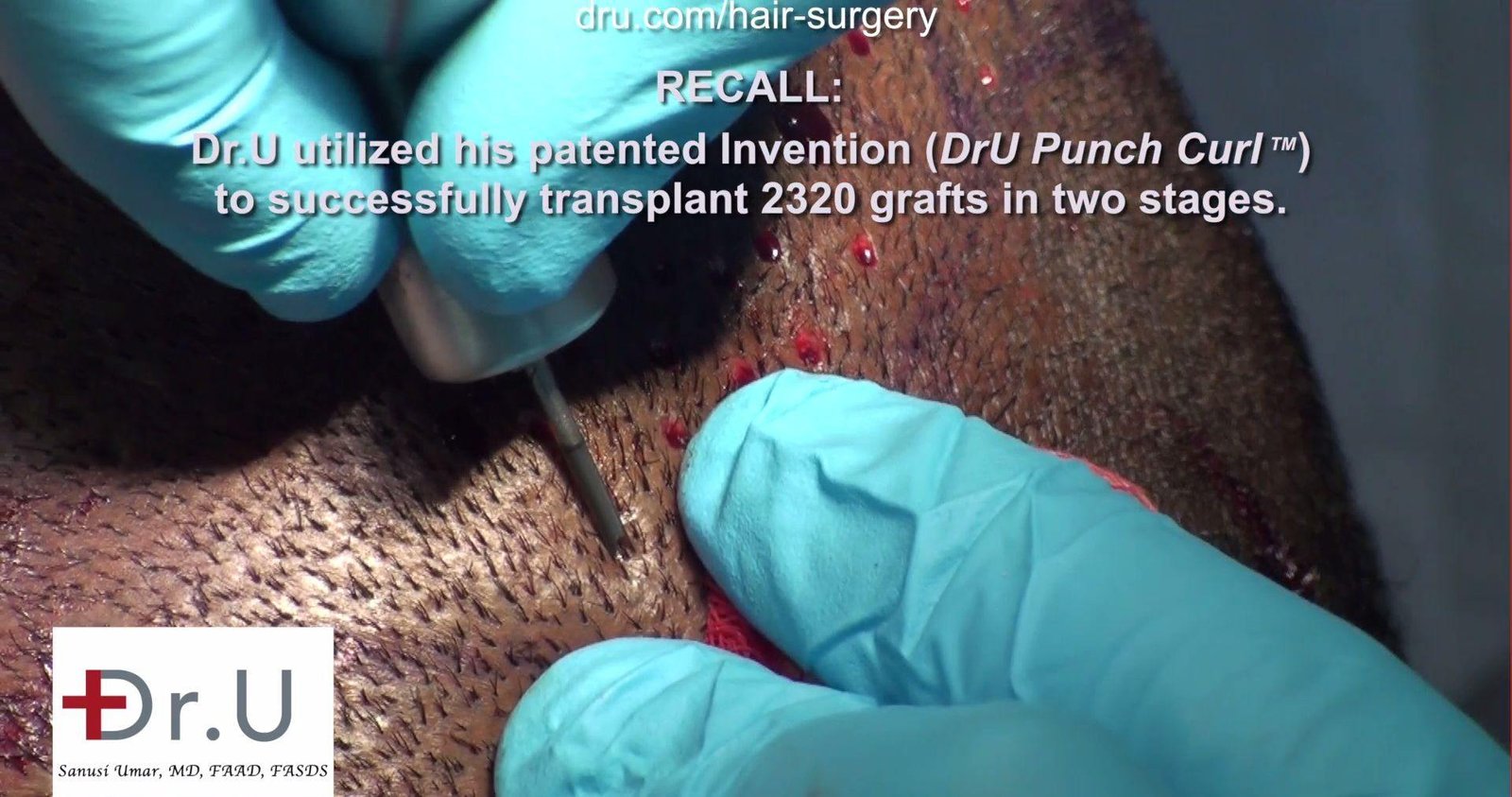 Dr. Umar is undisputably the king of mega-session body hair transplants. There are no other doctors we know of who has performed more mega-session body hair transplant sessions than Dr. Umar. His work are regularly featured and discussed in our community forum.
Few Truly Experienced Body Hair Transplant Doctors Out There
While the concept of Body Hair Transplant (BHT) is similar to FUE, the actual work itself requires a whole different level of skills set. That a doctor knows how to perform FUE does not necessarily mean that he is also a good BHT doctor. It takes many more years of dedication, practice and experience before a doctor becomes competent in BHT.
This is why you do not see a lot of BHT doctors out there. While there are a lot of FUE doctors out there who claim that they offer BHT as well, the actual number of BHT cases are actually very few. Many clinics just claim that they offer BHT in order to stay competivie against their peers, but the actual number of body hair transplant cases these clinics had performed are very very few.  
Dr. Umar belongs to a very exclusive club of truly experienced body hair transplant doctors in the world. 
Body Hair Transplant Large Scale Long Term Study
Body hair transplant long term study authored by Dr. Umar with clinical facility at his Los Angeles clinic located at 2121 N. Sepulveda Blvd #200 Manhattan Beach, CA 90266. The study is published by Oxford University Press in the highly respected peer reviewed Aesthetic Surgery Journal in May 2016.  Aesthetic Surgery Journal is the official publication of the American Society for Aesthetic Plastic Surgery.
Dr. Sanusi Umar, Founder of Dr. U Hair & Skin Clinic
Dr. Sanusi Umar is the famed author behind this groundbreaking study. Crowned the king of mega session body hair transplant procedures, Dr. Umar is no stranger to the community at HairSite. As a matter of fact, at the time when this article is published, Dr. Umar has posted more mega session body hair transplant results than any other doctors currently featured on HairSite. In addition, Dr. Umar has over 10 years of uninterrupted patient records on HairSite, only a handful few in the world can measure up to his credentials when it comes to hair transplantation.
FIRST in Many Aspects
The study under review here is a FIRST in many respects. As a start, those who are familiar with our community know that most body hair transplant studies are based on a single case, anecdotal evidence or observation of patient photos in many instances. This very study, on the contrary, involved a massive 122 test subjects and spanned over 7 years from 2005 through 2011, which is groundbreaking on many levels.
122 Patients, 7 Years Results
Let's face it, medical journals are boring and dry for the non medical professionals. So instead of asking our readers to go through pages after pages, charts after charts of medical jargon, we have summarized some of the important findings that most people considering hair transplant should know, especially if you are seeking repair sessions.
⇒ Strip scars repair is the most popular among patients seeking body hair transplants. Over half of the 122 test subjects are patients seeking strip scars repair. Hairline refinement is a close second.
⇒ It is not advisable to extra donor follicles from the back regions of the torso because of potentially higher transection rate due to the fact that the dermal layer in these areas are the thickest of all body regions.
⇒ Beard grafts are the easiest to extract and also come with a relatively lower transection rate than donor from other body regions.
⇒ Ingrow hair and white dots are cited as the most common side effects associated with the procedure but by no means do they constitute complications of any sort for the patients.
⇒ In terms of assessment of growth of transplant hairs, patients who had beard donor reported the highest growth rate.
Putting An End to the Body Hair Transplant Debate
This has been an ongoing debate and discussion whether body hair, when transplanted to the scalp, will take on the characteristics of head hair and grow long over time. Over the years, some argue that it will, others say that it will not, and there are some who believe that it will after the donor grafts have completed several cycles of regeneration. In the article, it seems to point to the conclusion that body hair, once transplanted to the scalp, will not grow as long as head hair. So there, we can probably put this debate to rest once and for all.
Confirming Our Belief: BEARD donor
It has long been suggested in our forum community that beard donor is the most robust among all body grafts. These findings from this peer reviewed journal seem to confirm our belief in this respect. This is particularly important news especially for repair patients who have severely depleted head donor. Instead of wasting time and money extracting donor from chest, legs, armpits etc, it may be advisable to focus on using beard grafts for repair sessions.
Same Old Warning
As always, while the findings reported in this long term, large scale body hair transplant study sound promising, there is really no one treatment that works for all patients. Each patient has to be evaluated on a unique and individual basis and there is no guarantee what kind of outcomes one may expect when it comes to hair transplantation. Be sure to discuss with as many doctors and professionals as possible before making a decision. Doctors featured on our site may or may not have the credentials and experience you need for your case. Our site only tracks successful results only, it is your responsibility to do thorough investigation and due diligence before making a decision.
Interested in reading the entire clinical report? Click Dr. Umar body hair transplant new study.
For more info or if you need further assistance, please fill out the inquiry form on this page.
Dr. Umar Hair Transplant Peer Reviewed Publications
In the medical world, doctors and researchers get their recognition via scientific peer reviewed publications. Dr. Umar most certainly has his fair share of research publications that earn him high praises from the hair restoration community. Below are some of the recent scientific publications authored by Dr. Umar and validated in the hair restoration and plastic surgery community:
⇒ A New Universal Follicular Unit Excision Classification System for Hair Transplantation Difficulty and Patient Outcome. 
⇒ Lichen Planopilaris Responsive to a Novel Phytoactive Botanical Treatment: A Case Series.
⇒ Treatment-Refractory Central Centrifugal Cicatricial Alopecia Responsive to a Novel Botanical Treatment.
⇒ A Novel Follicular Unit Excision Device for All-Purpose Hair Graft Harvesting - One of the biggest challenges in follicular unit excision (FUE) is the lack of a single device that can adequately meet the requirements of a range of patient donor variables, such as hair curliness, race, body and head hair locations, and non-shaven short-and-long-hair FUE. Now all this is going to change with the revolutionary ZEUS all-purpose hair transplant system; one compact device does all FUE treatments imaginable with ease. 
⇒ Use of Beard Hair as a Donor Source to Camouflage the Linear Scars of Follicular Unit Hair Transplant. - Use of beard hair as a donor source to camouflage the linear scars of follicular unit hair transplant. Beard hair follicles were harvested using Dr.UGraft™ extraction technology. Insertion of these grafts concealed the visible linear scars created by Follicular Unit Strip Surgery.
⇒ Hair Transplantation in Patients With Inadequate Head Donor Supply Using Nonhead Hair: Report of 3 Cases - Hair transplantation in patients with inadequate head donor supply using nonhead hair: report of 3 cases. Patients with insufficient head donor supply underwent hair transplant surgery using a graft supply of nonhead hair, safely extracted with the uniquely engineered features of the Dr.UPunch i™ .
⇒ Use of Body Hair and Beard Hair in Hair Restoration. - This case study report on four patients reported on the procedure and results of using body and beard hair harvested with the Dr.UPunch i™ hair restoration surgery.
⇒ The Transplanted Hairline Leg Room for Improvement - The world's first ever hair transplant surgery using leg hair grafts was documented on a patient who wanted a more natural-looking hairline after undergoing FUSS. This viable donor supply was made possible using Dr.UPunch i.
⇒ Eyebrow transplantation: Alternative body sites as a donor source - The first use of leg hair for eyebrow transplant surgery was documented in this published case where leg hair follicles extracted with Dr.UGraft™ instrumentation were used to create subtle, but greatly improved definition for this male patient's brows.
⇒ Eyebrow Transplants: The Use of Nape and Periauricular Hair in 6 Patients - The Dr.UPunch i™ was used to safely remove nape and periauricular hair to perform eyebrow transplant surgery on 6 patients. This publication also discusses the use of the Shave Test to determine the appropriate candidates for the long-term survival of these graft types.
⇒ Eyelash Transplantation Using Leg Hair by Follicular Unit Extraction - This patient case study represents the first documented use of leg hair follicles for eyelash transplantation. These grafts were effectively harvested, showing long term growth in the lash line as a result of the carefully designed rotary punch features of Dr.UGraft™.
⇒ Use of Nape and Peri-Auricular Hair by Follicular Unit Extraction to Create Soft Hairlines and Temples: My Experience With 128 Patients - The angulation of nape and periauricular hair can be overcome by the features of Dr.UGraft™ technology. These grafts offer a natural-looking soft quality that is ideal for reconstructing hairlines and temples in hair transplant surgery. However, many practitioners express the concern that these grafts may not be permanent. This study assessed patient feedback on their hairline and temple results created with NPA (nape and periauricular hair) follicles.
⇒ Body Hair Transplant by Follicular Unit Extraction: My Experience With 122 Patients - This case study reported on assessing the feedback and satisfaction of patients who had undergone body hair transplant surgery where grafts were harvested using the Dr.UGraft™ tool.
⇒ Comparative Study of a Novel Tool for Follicular Unit Extraction for Individuals with Afro-textured Hair - The transection rates of various tools used to remove grafts from patients with Afro-textured hair were compared. The, curved, non-rotary Dr.UPunch Curl™ exceeded the transection rates of the other three punches used in this study.
⇒ Archives of Dermatology Journal - The Transplanted Hairline, Leg Room for Improvement, "The use of leg hair in transplantation provides additional options in patients with hairlines that need to be refined.".
⇒ Annals of Plastic Surgery - Head Transplantation in Patients with Inadequate Head Donor, "Although hair length and quality, surgery time, and the requirement for improved surgical skills remain challenges when using this technique, the sufficiently good outcomes from these selected candidates suggest that this technique may offer the possibility of restoring even severely bald states to normality in patients who would otherwise not be candidates for traditional hair transplantation surgery."
⇒ Journal of Plastic, Reconstructive and Aesthetic Surgery - Use of beard hair as a donor source to camouflage the linear scars of follicular unit hair transplant.
♥  Dr. Umar publications summary
To find out if you are a good candidate for hair transplant, please fill out the form below for a prompt response directly from Dr. Umar.
Hair Transplant Physician Training & Devices
Hair Transplant is a REWARDING career; but only if you learn from the BEST!
Comprehensive Hair Transplant Training Courses - click image below for details
Latest Hair Transplant Results from Dr. U Hair Clinic
⇒ 6500 FUE+BHT life saving repair procedure
⇒ 5800 grafts repair using Beard grafts
⇒ 8000 grafts BHT body hair transplant for thinning and scar repair
⇒ 8000 grafts beard and head FUE for NW7 extreme baldness
⇒ Buzz cut after strip scar repair using body hair
Archived results 1, click Dr. Umar archived hair transplant results
Archived results 2 - click Dr. Umar archived hair transplant results #2 

Dr. U Hair & Skin Clinic
Website: DrU.com
Email: patientcare@dru.com 
Tel: (310) 318-1500 or toll free 1-800-499-DRUCLINIC
Address: 2121 N. Sepulveda Blvd #200 Manhattan Beach, CA 90266